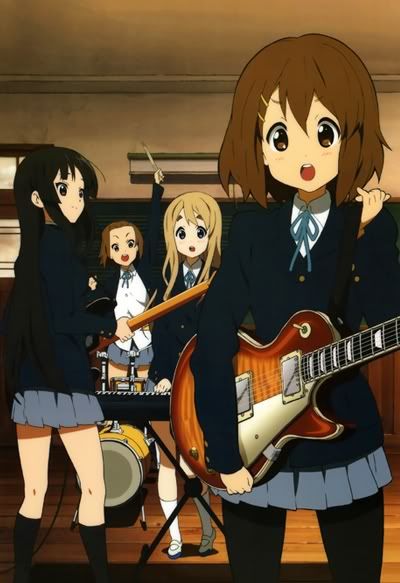 K-ON !


studio : Kyoto Animation
director : Shoko Yamada
serial run : April 3, 2009 - June 26, 2009
total episodes : 13
score : ****


OVERHYPED IT MAY BE BUT HELL YEAH I'M LOVIN' IT :3
as i have wrote in my first impression entry for the series before, k-on ! bears a near resemblance to another kyoani series [ lucky star ] both in direction and storytelling concept, that however doesn't stop me into following this series given my affinity over the genre as well as my passion into music. the show had also helps [ a bit ] in introducing the general anime audience to a much broader details and knowledge in band and music making, enough to spark fan-searches over instruments featured throughout its entire run [ most apparently those of yui's and mio's ]; well even i would consider on getting a sunburst les paul [ though i am more of an ibanez person ] if i had enough cash to spare in times to come.
k-on ! essentially is a character driven series so its apparent lack of a strong, solid plot is highly forgiven. plot and story wise the series is pretty much easy to grasp and digest even by casual and non-anime crowds alike [ since watching over it won't cost you any serious brain-job ] for it has a very lighthearted / free-spirited and easy going mood / attitude going on around yet does not forget in throwing in some [ very little ] thoughtful moments at times, such as in the christmas and the final three episodes [ the extra which mirrors the idea seen from the proper final episode for the first season of suzumiya haruhi no yuutsu, the 'boring-winter-day' one ]. also the writer[s] has made it pretty much easy for the audience to assimilate and relate themselves wif the scenario by touching over several familiar aspects of the everyday school life, which i personally found as one of the many strength of both the series and the studio which produces it [ kyoani ].
the series had also made a number of use over several technical terms, techniques and details in music-making / playing which before this may only apply to the knowledge of us avid musical fan / practitioners such as palm muting, humbucker and vibrato just to name a few. there's also several pop / cultural references thrown into such as the mentioning of the great guitarists [ jeff beck / jimmy page / jimi hendrix ], obvious references to existing musical brands [ yamaha / korg / les paul ] as well as cameo instances by character[s] from detroit metal city [ if i am not mistaken, well i did saw a johannes krauser there ] and 'sadako', yet however i am quite surprised that kyoani's signature viral marketing practice haven't made its way to the series [ unlike lucky star ] though it could be fitted into this one as well [ why not ? it could help in emphasizing the slice-of-life aspect of the series ], perhaps by having a book [ or two ] of haruhi lying around in yui's room [ or most likely, mio's ].
the entire cast and characters featured were diverse and lovable, and like lucky star the interaction and bonding between these characters were among the many highlights which helps in providing a solid foundation for the series. also, there's plenty of favorite anime-archetypes used for the series, from a super klutzy airhead dojikko, a mild and motherly ojou-sama figure to the must haves- a caring imouto and elegant tsundere... everything is all packed up into this. +there's also mild yuri undertones lingering in between its episodes given the characters were all put into an all-girls school setting, and yea that's what had me greatly smiling throughout its broadcast run :3 much of the characters featured received substantial treatment in their growth and development progress, most apparently yui and my personal favorite, mugi as well as azusa; these can absolutely be seen from the extra episode which has just been aired recently.
on to the production i especially love the overall cameraworks / direction / cinematography [ whatever ] as how i always did wif several other releases by kyoani; the studio are undoubtedly one of the best in the industry and i am not ashamed to self-proclaim myself as a fanboy lol. although some haters may have lambasted the series [ perhaps because it went overhyped ] still k-on ! itself is the very embodiment of both quality and commercially-successful-strategy [ or whatever the actual term is ], with excellently-executed [ fluid ] animation, a nice range of background / insert music choice and one of the best character design in modern, post-2000 anime. the series in general has overwhelmingly pacified the fan in me and might as well strike greater success in merchandising [ the soundtrack and its accompanying character albums have gotten my interest all flared up for its expansive musical architecture, +i will as well be looking forward to the toys and figurines to be released later on ].
well the only thing that i am mildly disappointed at was that there wasn't much scene focusing on the band jamming together as a band, as how i've been expected since the first episode; even their stage-debut in episode six was cut away with pv [ music video ] -
but upon my second thought however, that can be very much forgiven as it has brought upon another wonderful aesthetic once i sit down and give myself a thorough rewatch over everything.
besides, the series pleasantly made up for this not-so-grave fault here with its strong emphasis over its characters, giving us much emotion felt from them enough to get us emotionally attached to these girls, which is why i were so extremely glad that i had this one series here listed into my all time fave anime list :3