[ click here to download ]

SAKURASIKI
circle : Otaut-R
derivative work : Fate/Stay Night
release : not sure
volumes : 1
score : ****


this one here is a nice work derivative of the popular fate/stay night series scanlated by a devoted f/sn dojin translation group which i forgot both their name and url; the dojin itself has been in my collection for years now i just came to re-read it by whim somewhere around a month ago.
the story premise of the dojin focuses primarily on sakura's recovery from the event seen in heaven's feel scenario of the game [ which i think is the best scenario among two other ]. for a quick spoiler; in heaven's feel sakura got consumed by her inner darkness [ accumulated throughout her long torturous life under thecare of the matou house ] which transformed herself into dark sakura, a being that is made of pure evil due to the influence of the cursed angra mainyu contained within the holy grail. this dark sakura later went on a rampage aroundtown, consuming many and causing a state of terror upon her reign. even both saber and berserker went completely corrupted by her evil which turned both of them to her side as dark saber and dark berserker respectively.
...
back to the dojin, sakura has since liberated herself from the dark persona she had then and is currently living a calm, peaceful life post-heaven's feel. her 'brother' shinji is no longer around to antagonize her, however the ghost of her past eventually came haunting her as she recalls her guilt over the malice she had done to the people of her town... simply put, this dojin elaborates on sakura's desire to redeem and forgive herself for her dark past as well as assuring herself that she had the right to recover her strength and courage to live on, leaving whatever tragic event or self she had prior behind.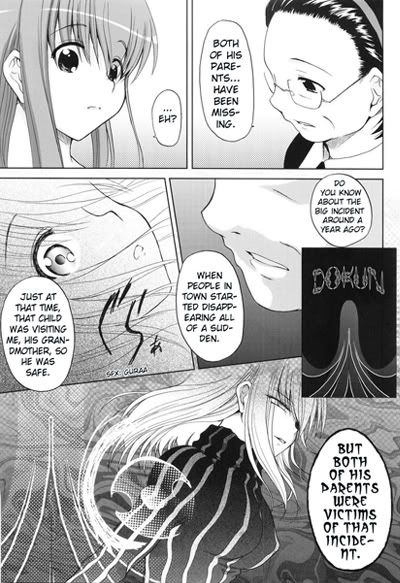 frankly speaking this [ safe ] dojin here is one good, lovely casual read it is and i am greatly pleased with what i came to read from it. and despite the dojin's near-brief nature, the circle / author managed to score quite an engaging story even wifout the typical h-get from a dojin, so good that it may fit well into f/sn continuity if ye ask me that is and thus if you love sakura for who she is [ and the yandere she was ] i greatly recommend ye folk to get a grab and read on this one :3